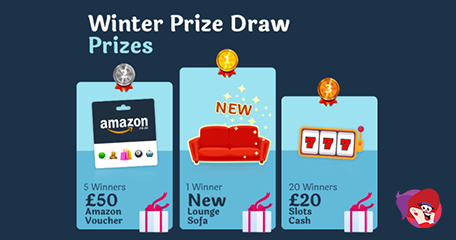 Get Comfy with This Superb Promotion
I can't believe Christmas is over for another year and we're just days away from welcoming in 2022 – how is that even possible! It only seems like yesterday I was bringing the LBB community the latest bingo news from my garden while sat in the glorious summer sunshine, then bam, just like that, we're waving bye-bye to 2021!
Did you get everything you asked for this year? Did the big feast go without a hitch? It was very hectic here in my wet and windy corner of West Wales with four families visiting at once! Let's just say I was more than ready for my bed come 6pm! If the big guy in red (or your other half!) failed to take the hints you've been dropping all year and you become the victim of yet another novelty apron, cooking utensil or a vacuum cleaner (ouch!), I have some good news for you!
If you want to receive a gift that is truly epic, and I mean epic, stick with us as we reveal the very latest bingo promotion from Bingo Storm; the home of zero wagering requirements.
Sit Back and Relax
Let's do some math shall we. What do you get when you add together 1 prize draw, 6 weeks to qualify and 3 prize tiers? Answer is 26 winners of Amazon vouchers, cash with no wagering and a luxury (expensive) sofa! Get that New Year, new sofa feeling with Bingo Storm by opting in and collecting entries into a grand 2022 draw. Every time your name goes into the 'hat', you stand a chance of winning £20 cash to be used on any of the hundreds of slots available, £50 in Amazon vouchers or £1K to spend on any sofa of your choosing!
The bingo prize draw is already underway with entries being handed out for every £10 wagered on qualifying games. At the end of January, the draw will be held, and 26 lucky players will win the prizes. The bronze tier states "£20 slots cash to 20 winners", however, this amount will be credited as cash and can be used on both bingo games and slots or withdrawn!
The silver tier is £50 in Amazon vouchers and there will be 5 lucky winners of those. The gold tier offers just the one prize – a sofa valued at £1K! The terms state the voucher will be credited to a website with help of the winner (any company you like!), and it needn't be spent on just the one item either! You can purchase as many items as you like up to £1,000! Example, if you choose Amazon as your 'sofa' retailer, you can purchase anything your heart desires…as long as Amazon can fulfill it!
Only qualifying games count, so make sure you're playing the right games on the right week…
…or you won't be earning those prize draw entries!
Week 1: 20th December 2021 to 26th December 2021 - Very Merry Christmas, Santa vs Rudolph and Secrets of Christmas
Week 2: 27th December 2021 to 2nd January 2022 - I Love Christmas, Sugar Train Xmas and Sweet Bonanza Xmas
Week 3: 3rd January 2022 to 9th January 2022 – My Bingo Hall, Starburst and Fishin Frenzy.
Week 4: 10th January 2022 to 16th January 2022 - Fluffy Favourites, Fruit Shop and Cleopatra
Week 5: 17th January 2022 to 23rd January 2022 - Secret Garden, Wolf Gold and Big Bass Bonanza
Week 6: 24th January 2022 to 30th January 2022 - Enchanted Prince, Starburst and Eye of Horus.
A Promotional Reminder
Bingo Storm has only recently landed at LBB and to make sure they're delivering the best possible bingo experience, we sent in our expert team of reviewers in undercover as part of our Player experience experiment, and all will be revealed shortly! Let's just say they really do offer no wagering promotions from start to finish!
Highlights include weekend bingo tournaments with £750 in cash and many other fun prizes, bingo jackpots, free bingo rooms, slots tourneys and an exclusive wheel! Just about everything you take part in at Bingo Storm comes with a spin of the wheel and on that wheel are numerous must be won prizes. Extra bonuses, spins and entries into prize draws are all up for grabs, and every time you take that wheel for a spin you know you're guaranteed to win something!
Other favourites include:
£10K Sunday Blast every Sunday at 8pm, £10K will be won! Tickets cost just 50p in this special 75-ball bingo game.
£600 Monday Chill: Monday blues got you down? Five prizes of £120 aim to turn that frown upside down at 9:30pm each week! Tickets to this game are just 5p each!
£1,500 Tuesday Rocks kicks off every week 9pm, and there's £1,500 to be won in these bingo games. Tickets will set you back 25p each with prizes of £250 for the one-line, £500 for the two-lines £750 for the full house.
£500 Wednesday Chic: Turn humpday into winsday with the 9pm weekly game. Prizes up to £500 will be won for 50p a ticket.
£1K Thursday Groove commences at 9:30pm every Thursday with 75-ball bingo games awarding prizes of up to £1K for 25p a ticket!
Can't make it on the night? There's a pre-buy bingo facility for that! Log in, head to the lobby and click to view the upcoming bingo jackpot games. Choose your desired number of tickets and confirm. All that's left to do is let the game play out and if you win, your winnings will be credited automatically! No need to be logged in at all!
Bingo Promotions & Bonuses
Back to articles
Your feedback
Please enter your comment.
Your comment is added.
Member's Feedback (1)
HangingAround
12/27/21, 02:12:16 PM
I would choose Amazon as my retailer if I were lucky enough to win, because I would get so much stuff instead of just the one sofa. Who spends that amount on a sofa...
I would choose Amazon as my retailer if I were lucky enough to win, because I would get so much stuff instead of just the one sofa. Who spends that amount on a sofa anyway? I got two for less than £700.
Show more