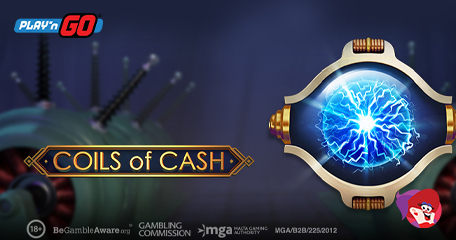 We're one week into 2021 and we're already witnessing the power of Play'n GO! Wasting no time in putting a stamp on the new year while showing the competition how it's done, the award-winning software provider is the first to release a new slot, but is it slot game one or 52 of 52 from 2020? Let me rewind a little. Last year, they promised to deliver a new slot each week for a year – that's 52 titles, but the last week of December they announced mission accomplished with the Piggy Bank Farm release, but the numbers didn't exactly add up. And it certainly doesn't help that this latest one has number 52 of 52 stamped on it!
While we wait for clarification from Play'n GO HQ, let's just assume they do fulfil their promise and they aim to deliver even more this year. The theme for this latest invention is electricity and there's no denying electricity is the way forward – especially when it comes to cars. Coils of Cash is what you call a new-age title where what you see is the direct result of 1893 World Fair inventions, an era belonging to the greatest minds in invention: Tesla, Edison and Westinghouse.
Back to the Future Part I?
We may be looking back at the future (if that makes sense), but Play'n GO CEO Johan Törnqvist is keeping his mind on the now: "We have continued to go from strength to strength, giving us more opportunities to create top tier titles for our partners and extend our brand of entertainment to as many players around the world as possible. This year we will continue to produce innovative games for the industry while exploring new territories and new ways to create better gaming experiences. It's going to be another exciting year!"
Available in multiple jurisdictions from today, Coils of Cash packs a punch with a series of fun-filled features including the unique 'Power Coil' element whereby wins can be charged up to as much as 625x! It's retro, futuristic and a little bit of nostalgia all rolled into one, but the wins are anything but! A maximum multiplier win of 30,000x hides within the symbols on the reels – a sum set to (electric) shock any level of bet.
Plus, add to that a cascading reel engine and you've more value for money gameplay right there! When wins are found the winning symbols are evaluated before being removed from the grid. New symbols fall into place and the process will continue for as long as new winning combinations are found. Will you be giving the latest release a try? Don't be fooled by its appearance – it may look a little like Ice Joker, but it's far more electrifying!
Source: "Play'n GO Get Off to an 'Electric' Start in 2021". Play'n GO. January 7, 2020.
Bingo Games
Back to articles
Your feedback
Please enter your comment.
Your comment is added.
Member's Feedback (1)
TinTinn
01/08/21, 07:01:08 AM
I love to play unique games and I can't wait to see this one in action, because it sounds nothing like the rest.