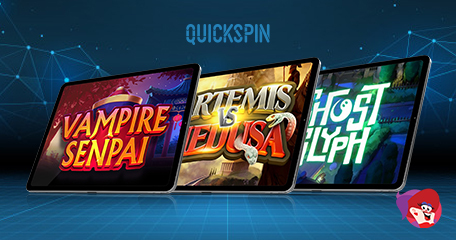 If there's one thing I love, it's a new slot machine and Quickspin are teasing us with details of three of their upcoming releases, all of which guaranteed to entertain with fun-filled features and massive win potential. First to hit the online casino scene is Vampire Senpai, and if you're a regular here, you'll have already seen what's to come with this one.
Two Greek goddesses are promising to pull out all the stops in August when the Artemis vs Medusa title goes live. Centred around two feisty and ferocious females, the 5-reel, 1,024 ways to win reel engine is packed with multipliers of up to 5,288x your stake! And when it comes to bonus spins, there's no limit to the number you can trigger!
Travis Grabau, Producer revealed the story behind the game: "The heart of the game is the battlefield, we wanted to create a game that was designed to take advantage of the vertical space available in portrait mode. We also thought that it would be fun to have both the protagonist and antagonist be portrayed with a strong female character.
It didn't take us long to settle on Artemis. The goddess of the hunt was just the type of figure we had in mind. Once we had decided on Artemis it made Medusa the gorgon the most obvious choice for her opponent."
Bonuses include monster coins with the possibility of monstrous pays, monster bounty where coins on-screen will be gathered and added to your bankroll (in similar style to that of Pragmatic Play's Wolf Gold money bag feature), wilds and unlimited bonus spins where the battle between Artemis and Medusa begins.
Over to Quickspin's Travis Grabau once again as he reveals an insight into the upcoming casino game: "We then gave Medusa some minions, the Harpy, Griffon, and Minotaur to square off against the divine arrows of Artemis. We also played around a bit with the location. Mount Olympus is well known as the home of the Greek divinities so we thought it would be kind of fun if the actual battle took place in the inverse of the mountain, during the night when the moon was full. We tried to include a lot of the symbols of Artemis in the production, you will see arrows, stag antlers, and the moon which are all associated with Artemis."
Spook-Tacular Effort
September may seem like a long way off, but Quickspin are giving us a heads up on a release that is guaranteed to get you in the Halloween 'spirit.' Ghost Glyph is a medium volatility, cluster pays casino game with a max win potential of 2,000x your stake. Bonuses for this one include tumble mechanics (sometimes referred to as cascading symbols or reels), as well as free games!
A spine-tingling setup could see the ghost glyph launch into action and award wilds and monstrous wins. Progressive play is the name of the game; the longer you play, the more chance you have of unlocking the urns and their features. Don't worry, the theme is not designed to be as realistic as haunted bingo halls with chairs being thrown around the room, but instead, it's more of a tongue-in-cheek setup.
Michael Spinks, FX Artist: "We're trying to aim the game at a more modern player, bridging the gap between slot gaming and mobile app games. We're trying to achieve a feeling of a gaming level, with the mechanics of a slot game. We want characters to come onto the reels to activate the features, so the player gains an understanding of each character's ability during the gameplay and builds an understanding of how the game works very quickly. It is a predecessor of the Golden Glyph, but we're trying to accomplish a completely different feel with a dark humorous twist."
Will you 'urn yourself the award for landing the top prize? Check out the ghosts and their effects below:


Yellow Ghost Urns spread between 4 and 10 wilds onto the reels


Green Ghost Urns transform all low paying symbols into higher paying counterparts


Red Ghost Urns targets one specific low paying symbol and removes all occurrences of it for more chances to win (and win big!)


Blue Ghost Urns activate the bonus spins where you get to play for free or if you've already triggered eh bonus, you'll be granted 3 additional spins in the bonus game


One more feature to keep your eyes peeled for is the massive wilds; this only comes into play at the end of your free games. If the last paranormality meter reaches at least level 3, massive things can happen!
Source: "July, August and September Releases from Quickspin". Quickspin. June 22, 2020.
Bingo Games
Back to articles
Your feedback
Please enter your comment.
Your comment is added.
Member's Feedback (1)
Bubles12
06/30/20, 07:06:20 AM
Fascinating to discover the inspiration behind the games!