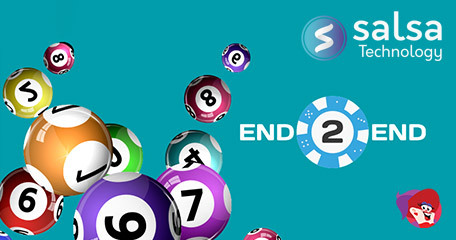 More Bingo Products Available to Salsa Clients
On Tuesday 13th July, Salsa Technology announced an enhanced online casino offering with the launch of END 2 END's premium multiplayer bingo solution.
END 2 END's pioneering bingo offering is now available on Salsa's aggregator platform where partners (and their customers) will be able to gain access to a wide selection of 90-ball and 75-ball bingo and lottery games.
Salsa now has access to one of the most renowned multiplayer bingo technologies available following the launch, resulting in clients being able to access a wealth of bingo games in real-time and in different modes spanning online, retail and live.
Head of Salsa Technology Marketing and Communications, Eliane Nunes said: "END 2 END's multiplayer Bingo product is an exceptional addition to our platform and we're thrilled to announce the launch. Our partners can now gain seamless access to a portfolio of high-quality Bingo products each designed to deliver maximum entertainment."
Alejandro Revich, CEO and founder of END 2 END added: "Like us, Salsa Technology truly understands the LatAm market and the multiple nuances within the region. We're very pleased to be live on the Salsa Gator as it enables us to increase our exposure within LatAm and additional markets where Salsa operates."
A Decade in the Business
Salsa Technology is the leading B2B company in Latin America, developing customized solutions for the iGaming industry for clients/customers in Latin America and Europe. Their journey began in 2012 when BetMotion required video bingo games, which led to the release of "Patagonia," the mobile-friendly video bingo game. Fast forward to 2021 and a major expansion of the company got underway, with the arrival of new industry key names to the team.
Managed by professionals with more than 20 years experience in the trade, has enabled the company to be internationally recognised. Salsa Technology is made up of four core products:
Salsa Omni the iGaming platform providing a complete, flexible and scalable solution that allows complete management of an iGaming operation.
Salsa Gator the aggregator provides the largest library of games content in LatAm with more than 4,000 games available to 60+ providers and 35+ operators.
Salsa Studio the game Provider where the best video bingo and slots games are created.
Salsa Consulting for services and consulting.
Gaming Specialist
END 2 END is a technology company specialising in providing solutions for the gaming and gambling industry. Based in Buenos Aires and Miami, the company has more than 15 years' experience in the trade, with video bingo and multiplayer games being a speciality of theirs. Since 2010, END 2 END have developed cutting edge bingo software, platforms and many other games for the online casino industry.
General Gambling News
Back to articles
Your feedback
Please enter your comment.
Your comment is added.
Member's Feedback (1)
lollipops321 07/15/22, 06:07:14 AM
More bingo games is a good thing. I enjoy playing instants because there is more than just scratch and reveal gameplay to them, there is bonuses too! Same with the...
More bingo games is a good thing. I enjoy playing instants because there is more than just scratch and reveal gameplay to them, there is bonuses too! Same with the video bingo games.
Show more