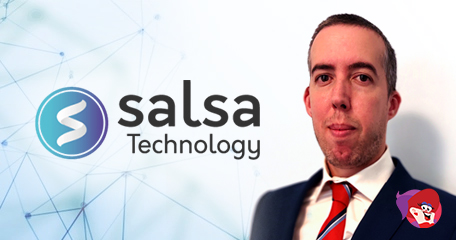 Traditional online bingo and slots players are joining in on the Video Bingo bandwagon! Formerly known as Patagonia Entertainment, Salsa Technology refreshed its branding to highlight its core products. Among them is Salsa Studio, which is responsible for the feature rich video bingo games represented by its Pachinko mascot. Learn more about this growing iGaming provider in our exclusive interview with Louis Gonzalez, Salsa Technology Head of Sales and Studio.

Q: Please introduce the company and the core product.

Salsa Technology is a leading B2B company that develops customised solutions for the iGaming industry in Latin America and Europe. The business is managed by a team of professionals with over 20 years of experience across online and land-based gaming. This has allowed Salsa to rapidly become internationally recognised as the go-to business platform in Latin America.

Under the Salsa brand there are four core products that attribute to its success. Salsa Omni, an omnichannel platform or PAM (Player Account Management) which forms the foundation for any top performing iGaming operation. The platform, and the entire games portfolio, is certified by the best gaming labs in the world. An in-house games studio, Salsa Studio, forms a complementary part of the business. The proprietary studio creates games with a strong focus on localisation, meeting demand of various markets with Video Bingos and Slots.

Supporting our in-house design team is Salsa Gator, which is the largest portfolio of game content curated for the LatAm market. Salsa's aggregator gives operators, through a single integration, access to a plethora of localised content for their players. From the content providers standpoint, Salsa Gator offers the perfect launchpad to ensure that their games reach the right operators and the right players. Finally, Salsa completes its 360° iGaming offering with its Salsa Solutions service. Years of experience has meant the operation has an unrivalled understanding of Spanish and Portuguese speaking markets across the region.

Understanding the cultural nuances, the people and the language is imperative to make a success of the LatAm opportunity. On top of ensuring marketing and sales strategies are communicated properly, Salsa Solutions provides corporate services that are a must to launch a company.

Q: In 2020, Salsa executed a rebranding project - what was the reason for this?

The decision to refresh our brand was to better reflect Salsa Technology's 360° iGaming solution hub. It neatly brought together the four core elements of Salsa's business offering Salsa Omni, Salsa Gator, Salsa Studio and Salsa Solutions. Salsa's logo encapsulates the company's commitment to delivering a leading tech system for casino, sports betting, lotteries and bingo that focuses on quality, safety and user experience.

Q: Video Bingo makes up a large part of the Salsa Studios portfolio. Tell us more about the mechanics and features.

Video Bingos are incredibly fun single player games with a fast-learning curve thanks to their simple, yet entertaining design. These games perform strongly in equal measure whether you're betting big money or someone looking for some light entertainment.

Over the years, Salsa has developed many Video Bingos, but Pachinko is the main mascot. Some of the highlights include, in-game features, bonus rounds, free rounds and each is designed in HTML5 with full compatibility with mobile devices and desktop.
The Video Bingos are well loved across a vast number of worldwide territories and even more so in markets where Bingo has a rich history and cultural significance. Latin America, where Salsa began its journey, and Asia are two major regions Bingo is ingrained in gaming society.

Q: Originally popular in Latin America, Video Bingo games are branching out. What makes them so appealing to players according to market research?

Video Bingos are incredibly fun and easy to enjoy. The game themes instantly grab the attention and draw players into an immersive experience where prizes could be just around the corner.

From an operator's perspective, Video Bingos work as excellent conversion tools for casinos as they have a track record of transforming players into traditional slot players. The games ordinarily have a higher win ratio than the traditional slot content and therefore an enhanced player experience.

Q: Do you think slots players are more likely to play Video Bingo than traditional online bingo players?

Within the slot player demographic there is a huge segment that plays for fun and excitement. These players also love Video Bingo titles thanks to the casual and exciting gameplay that has similarities to slots. For a comparison, we see very similar Video Bingo conversion rates from traditional bingo and slots.

Q: In terms of fairness, are your games licensed?

All Salsa Technology's games are certified. RNG (Random Number Generator) and pay-tables for games are accurate as promoted to meet regulations. At present Salsa Technology has a Curacao licence, but is close to completing the regulatory process for a number of jurisdictions that include Spain DGOJ, MGA, Portugal and Santacasa.

Q: Can you discuss any projects in the pipeline

We cannot go into specifics at the moment, but the Salsa roadmap promises to deliver a number of landmark projects as we build towards ICE London 2022. Our next growth stage for the business revolves around table games, instant games and traditional slots. Watch this space.

Q: We thank you for the chat. Is there anything else you'd like to add?

We would like to thank everybody who is supporting us and for the industry placing its trust in our company mission. Partnerships form the foundation for Salsa's growth strategy and making revenue together ensures we all succeed. We're very much looking forward to welcoming more partners as we continue to deliver on our targets.
Back to articles
Your feedback
Please enter your comment.
Your comment is added.