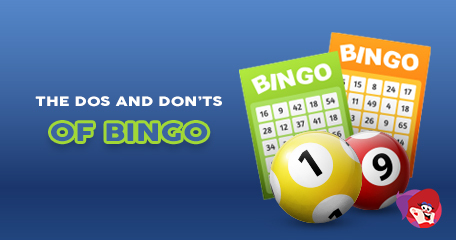 The one thing we have in common is our love of bingo and there's no denying it's a great pastime, but every now and again we need reminding of the rules and guidelines. Playing bingo is more than just signing up and watching tickets play out automatically, it's a gaming experience which is designed to be fun only for some, the fun stops but the playing doesn't. And, if you ever find yourself in a situation where dabbing tickets is no longer a pleasure, you need to take a break.
While you're not expected to turn up in your best outfit (I often play in my PJ's), you are expected to be part of the community and you can only become a valued member of the community by following these simple rules:
Play for fun! Bingo can become addictive to some which is why all operators offer the tools required to help stay in control of your spending. Whether you choose to det a daily, weekly or monthly deposit limit or opt for a maximum length of time you can play per day, these tools (and more) can be found within your account.
Rules are rules! One phrase always sticks in my mind; "Nice to handle, nice to hold. If it gets broken, consider it sold," only you can't break bingo, can you? If you don't play by the rules you will be banned, no if's no but's, so technically speaking, yes you can break bingo! Be polite, never swear, don't masked swear words, don't type in capital letters and don't complain about losing - "it's always the same winners" particularly gets on people's nerves so please don't type it!
Learn while you try to earn. We all have the same goal in mind when it comes to bingo – win, but there are other ways to win without dabbing that ticket! Take chat quizzes for example, some sites welcome you to join in without having any tickets in play and if you're right, you could receive instant bonuses! But many quizzes are based on bingo lingo, so words like Cul8'r (see you later) and ROFL (rolls on floor laughing) may be used, which is why it's always a good idea to get an understanding of these terms before signing up.
Make withdrawals! Now, you may think this one is pretty obvious, but for some it isn't. I've often seen player's win a full house and carry on playing and end up with nothing, which is why it's vitally important to be bingo savvy. I've been playing for years and I have my own rule that I follow each time I pick up a virtual dabber – anything I win over my initial deposit is withdrawn straight away and by using PayPal as my banking method, withdrawals are quick!
Social is more than just chat! There is one other place where you can pick up extras – social media. If an operator offers bingo games (and/or slots), you'll find them posting frequently on Facebook! Giveaways, freebies, competitions, up-coming previews are all common and one such site is Play OJO who are offering a £400 Airbnb voucher with their latest post. All you have to do to win is tell them where you'd like to travel this year. Easy!
The Top-Five Don'ts of Bingo
This leads us to what you shouldn't do, many of which are obvious. The first is don't expect to win because the chances are you probably won't! If there are 100 players in the room, your chances of winning are 100:1 and if you log on expecting to win, you'll be sorely disappointed. There are things you can do to boost your chances of winning, including playing at off-peak times and heading to rooms where there are less players (and less prize money!).
Keep schtum! Never post your personal details in the chat feature – that is the biggest no-no of them all! And pay attention to your surroundings, especially those owned by Cassava Enterprises Ltd (888 Bingo being one!) because the help room is not private – it's a public chat room and while there may not be signs of anyone else there, you can never guarantee it. These help rooms often see many help agents and people speaking over each other to be heard, so don't post anything personal here either! Same goes for the live variants of bingo.
Nobody likes a show-off! If you win or win multiple times, try not to wind the other players up as this may lead to a huge showdown in chat. Nobody – not even the chat hosts will appreciate gloating, but they'll always say WDW (well done winner).
Ever heard of the boy who cried wolf? It's one of Aesop's Fables whereby a shepherd boy would continuously trick the villagers into thinking a wolf was attacking the town – nobody believed him and when the wolf did attack, it was too late! This same concept should be taking into account with bingo chat bonuses. Many bingo sites allow the (chat) winner to gift the bonus to another player, and sometimes those who claim they have nothing, have plenty, so always keep what you win.
Payment savvy! When it comes to confirming your identity, you will be required (by law) to send over documents of identification, such banking details, driver's license, and recent utility bill. When sending you bank card details, you are not to send an image revealing the entire number (16-digits)! Use a piece of (thick!) paper or card to disguise the middle 8-digits, leaving just the first and the last (4) digits on show.
Bingo Society News
Back to articles
Your feedback
Please enter your comment.
Your comment is added.
bridgetjones
01/05/21, 09:01:21 AM
Great tips! I didn't know you had to send bank details! I would have sent it all over without even thinking!