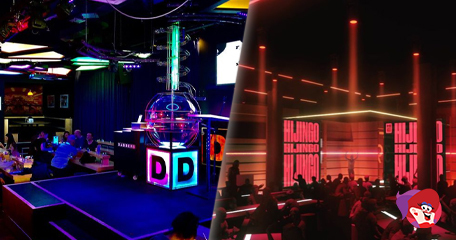 We may not be able to get out and about at this precise moment, but that doesn't stop us taking a virtual trip round some of the most beautiful bingo buildings here in the UK. And you never know, we may just feature your local! With land-based bingo games dating back centuries, it wouldn't be unusual for venues to be historical buildings with fixtures and fittings to match – not all bingo clubs are modern you know.
From churches to run-down cinemas there are some spectacular places to play bingo up and down the country and the first takes us to Tooting in South London. Buzz Bingo currently occupy the Grade I listed building where 1930's art deco runs throughout. Carved walls, intricate designs and beautifully painted portraits date back to when the building originally opened as a cinema house during the Great Depression.
Tooting Buzz Bingo welcomed the likes of Frank Sinatra, The Beatles and The Rolling Stones in the past and now, it welcomes those over the game of 18 who are looking to win big! Details for this venue when eventually up and running are:
Manager: Jeevah
Telephone: (020) 8672 5717
Email: club@buzzbingo.com
Address: 50 Mitcham Road, London, SW17 9NA
Sticking with the 1930's art deco theme is Apollo Bingo in Rhyl, Wales. The Grade II listed building may not be as spectacular as Tooting's building in terms of design, but a cool half-a-million quid was thrown at renovating a new entrance, stage and seating in 2016.
Manager: Robert Down
Telephone: 01745 331805
Email: getintouch@majesticbingo.com
Address: Denbighshire, Brighton Road, Rhyl, LL18 3HD
Modern English Delights
Mecca Bingo in Taunton now, and a club that I have had the pleasure of playing at. Known previously as the Gaumont Theatre, inside is extremely spacious with high ceilings and colorful floors. Balconies and staircases once saw thousands of spectators look on as David Bowie and The Beatles took to the stage, now, the stage is a bingo calling area. This venue is home to live entertainment, great value food and drinks and a great selection of gaming terminals with plenty of spinning and winning opportunities.
Telephone: 01823 272 282
Email: mectaunton@rank.com
Address: Corporation St, Taunton, TA1 4AH
Bingo games are becoming more and more popular and not just online, and in order to cater to the masses, some things must change. Don't worry, the big offers never change! You'll still find your good old fashioned British bingo experience in just about every town centre as well as online, but you'll also find modern alternatives. Bongo's Bingo are a big name in the modern bingo market – a company who mix bingo dabbing with clubbing and mad party antics and because of this very reason, we find ourselves visiting Dabbers Social in the heart of London.
The neon-lit club is a partygoers' dream with a stage, disco lights and plenty of entertainment per ticket. Aimed at the 18-30 scene, this venue hosts themed bingo events such as Dog Bingo, Brunch Bingo and Cheese and Wine Bingo, most of which feature dance battles of some sort or the other. Until June 21st, they're hosting virtual bingo and entertainment events, details of which can be found on their Facebook page.
Telephone: 020 3176 3139
Email: dab@dabbers.bingo
Address: 18-22 Houndsditch, London, EC3A 7DB
Bingo Society News
Back to articles
Your feedback
Please enter your comment.
Your comment is added.
Member's Feedback (1)
HangingAround
03/02/21, 11:03:14 AM
Never visited these places but it's nice to read about them. My local bingo club is a rundown hall that's falling to pieces.