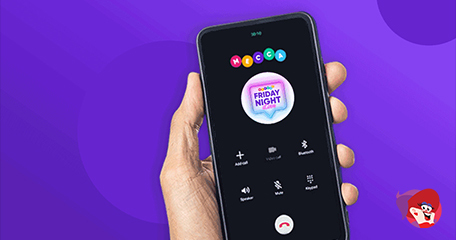 Pick Up The Phone If It Rings!
Pinch and a punch for the first day of the month and no return to me! Happy October LBB'ers! As old September promotions come to a close, attentions turn to what's around the corner and while we wait for the latest bingo freebies to launch, we thought it would be a good idea to bring you a recap of what's coming to a close shortly. Including Mecca Bingo's Friday Night Live.
Mecca Bingo are aiming to light up your Friday evenings with a selection of celebrity guests, great games and the chance to win £500 in cash. For free! Two hours of fun will beam directly from the bingo studio right to your device, whether you're tuning in via any of the bingo room or their Facebook page.
Get Ready For A Cash Call
To get in on the action, listen out for the special promo code from 8pm on Friday October 7th. When you hear it, head on over to the Mecca Bingo lobby and type that code in. If your phone rings you're in the game! This bit is important…
…if you say "Friday Night Live" when called, you'll get an additional £25! Celebrity guests include Bobby Norris, Jaymi Hensley (Union J), Robin Windsor (Latin ballroom dancer), Jess Impiazzi (Only Way Is Essex star) and Antony Costa (Blue boyband member).
The lucky caller who gets chosen at random will get to chat to the presenter, Lisa Celisse, as well as the celebrity guest during live bingo games. Not only that, but they also get to take part in fun games to win up to £500 in cash! This promotion is open to registered players only. No deposit is needed to participate making it a promotion suited to both new and existing Mecca Bingo players.
Goodbye Promotions
Other promotions coming to an end this week include the £25K main event bingo game. These special cash-boosted bingo games run in tandem with Friday Night Live, with at least £500 in cash to be won between 8pm and 10pm. Then, at 9pm it' the bigg'un – the mega full house worth thousands. There are additional ways to win cash too, including participation in the "Mecca Word" game, the Celebrity Lingo-style word game.
The month-long deals will wrap up on October 9th. What are month-long deals? From a free £5 bonus to a free £5K bingo session, there's a different deal to claim every day. Other delas include bonus spins with no deposit, spins deposit deals, bingo and games bonuses.
Finally, you have the Celebrity Lingo free-to-play daily game too, where logging in could trigger a prize of up to £100 absolutely free. Make a deposit and spend £10 to get a guaranteed win the following day.
Bingo Promotions & Bonuses
Back to articles
Your feedback
Please enter your comment.
Your comment is added.
TinTinn
10/03/22, 07:10:17 AM
The bingo show can be watched in the main event room where the big Friday night money is. It's glitchy at times but that just might be my internet connection.