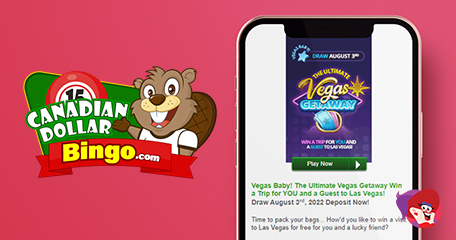 This is Your Chance to Win a Trip for 2 to Sin City!
It's time to celebrate LBB'ers! Canadian Dollar Bingo have just opened a brand-new bingo room and we guarantee you're not going to want to miss it! The new winning weekend bingo room features nothing but equal chance games, and you know what that means? Everyone who takes part has the same chance of winning! This is great news for those of you on a budget.
As the name suggests, bingo games are only available to play between a Friday and a Sunday and the aim of the game is to get a coverall before anyone else. Being fair and square means a one-off flat fee per player – you pay $10 for 45 cards (25c each), giving every one more chance to win bigger jackpots on a low cost card.
This month, half a million dollars is up for grabs in the new bingo room with mega cash…
…going to those who can dab an entire ticket within the stated number of calls. Don't worry if you can't quite win the jackpot because there are guaranteed minimum prizes to be won too! You can pre-buy in advance or head to the room just before the big bingo games begin.
Marvellous May Promotions
Canadian Dollar Bingo is awash with prize money this month with multiple promotions guaranteeing big cash payouts, but you've got to be in it to win it! If you're yet to join this hugely popular Canadian bingo site, we've an exclusive free trial offer waiting to be claimed. Our readers are able to claim $50 absolutely free upon completion of the registration form and from there the bonuses keep on getting better and better!
Feast your eyes on the full bingo schedule for May and don't forget to let us know your favourite in the comments below.
Massive May Bingo Promotion: Win your share of $150K in guaranteed cash by taking part in month-long games. Packed with extra prizes, raffles and plenty of fun, Canadian Dollar Bingo are pulling out all the stops to ensure everyone has a great time. There will be weekly cash draws as well as buy 30 get 5 cards free offers throughout the month, meaning you get five extra chances to win every time you take part, and for free! Every deposit, wager and win throughout the month will add points to your tally and the more you have the better your chance at scooping a prize. At the end of each week the raffle will be held for additional prizes.
Spin to Win: Over 250 jackpots of at least $3K are guaranteed every month and this month is no exception. Canadian Dollar Bingo slots are paying out over $15million a month with 1,000 jackpots of over $1K, more than 420 jackpots of $2K, over 250 jackpots of $3K and more! Take part in the slots tournaments to get your name into the lucky draw!
No Deposit Spins Promise: Every week in May you will be treated to 50 no deposit spins! Simply log in on a Tuesday and a Friday to get 25 free games on the house! Use your spins on the machine of the day – Diana Jones, the feminine version of Indiana Jones only with a little more sass!
Ultimate Vegas Getaway: Fancy winning a free trip to Vegas for you and a mate? Now's your chance to do just that! Every deposit of $50 will award you with a single raffle ticket, $75 gets you three tickets and $100 gets you five. The draw will be held on August 3rd with one lucky winner scooping a fantastic trip to Sin City (for two), with round trip tickets, 2-nights hotel stay, taxes and fees! Or, if you don't fancy jetting off to Las Vegas you can choose the cash equivalent of $1,500 instead!
Great Canadian Road Trip: Win your share of over $75K by taking part in the virtual bingo road trip! Watch out for the city and landmark games as you venture round the country in style to pick up winnings and points for the weekly and monthly draws. Top-ranking players and those who haven't won will have the same chance to win keep things nice and fair.
Rock 'n' Rollin' Freebie: Take part in free bingo games 24/7 with bingo bonuses up for grabs every couple of minutes. Every win in this special freebie room will generate a raffle ticket and at the end of the week three deposit deals will be won; 250% bonus, 150% bonus and a double your dough 100% bonus! These bonuses will be added on top of the $1000% welcome bonus package or your loyalty or daily bonuses. Result!
Appreciation Freeroll: This is your chance to win free money in the weekly freeroll games. Join in the free bingo fun every Wednesday at 7pm to take part in 10 guaranteed games paying nothing but real money. Over $1K will be won every month as well as bingo bonuses to keep the fun going. Entry is granted to this exclusive promotion when a deposit has been made in the 7-days leading up to the event taking place.
Am to Pm: There are two chances to win big cash in the daily coveralls at Canadian Dollar Bingo, one for $750 in the morning and another for $1K in the evening. Starting at 50 calls, the ball count will increase by 1 ball every 5-days to increase your chances to win. The evening coverall will be played at 11pm with the ball count increasing every 3-days. If the jackpots don't go, there is a minimum of $100 to be won.
Plus there are many more promotions and free offers to claim! Why not check out the latest casino games at Canadian Dollar Bingo? Wild Gang, Loki and Thor plus the Sushi Swap; the totally tasty release by Mobilots can all be played for free in demo mode. Why risk your cash testing games when you can play for free?
Bingo Promotions & Bonuses
Back to articles
Your feedback
Please enter your comment.
Your comment is added.
Member's Feedback (1)
HulioSas 05/09/22, 10:05:02 AM
That Las Vegas trip is my favourite and I would love to visit! I'll have to give this one a go! I'm pleased to see it isn't the most points wins style promo.