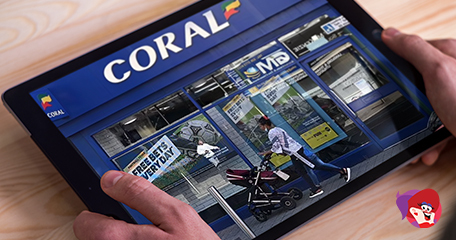 Problem Gamblers Causing Issues For Operator
Not stopping problem gamblers – that's the reason why Entain now have to pay a staggering £17m penalty package! The Isle of Man based operator who owns Ladbrokes and Coral may also have their gambling license stripped due to money laundering failures. Andrew Rhodes, chief of the Gambling Commission has called the series of failures "completely unacceptable."
The FTSE100 giant received the largest ever fine to date and it's the second time the Gambling Commission have fined the company in the last five years. The penalty itself may sound severe, but campaigners say it pales in comparison to the operators annual profit which are more than half a billion pounds. One MP has even called for prison time for those who allow money laundering.
A series of failures were picked up by the Gambling Commission between December 2019 and June 2020. Entain, valued at £8bn, didn't assess the risks of its business "being used for money laundering and terrorist financing," and at the same time failed to monitor for potentially vulnerable players. One customer deposited more than £230K in just an 18-month period and the only interaction the customer had with staff was via live chat – that's not keeping it safe! This customer was displaying signs of addiction by gambling for long periods of time during the middle of the night!
Will It Be Third Strike You're Out?
Source of Funds protocols were not carried out after the investigation revealed customers were still able to deposit and gamble without explaining where their funds had come from. In one instance alone, a customer who failed to supply any SOF documents was able to deposit £742K in a 14-month period, all without adequate checks.
It's not only online where Entain, the second-largest listed bookmaker in the UK, failed to act by the rules of the law, they also failed to refer a customer to responsible gambling teams after they lost more than £11K in just one month via one of their high street betting and casino shops!
Entain said: "The issues raised by the commission relate to [a period] which predates the many changes in the area of safer gambling and anti-money laundering that Entain has introduced."
Despite being at the forefront of safer technologies, chief executive Jette Nygaard-Andersen told shareholders in June last year "We continue to lead the market in the critically important area of responsible betting and gaming." But Carolyn Harris MP…
…chairman of the all-party parliamentary group on gambling-related harm, begs to differ! She said: "This fine shows gambling companies cannot be trusted to regulate themselves and protect vulnerable players."
Ronnie Cowan MP, vice-chairman of the group, wants firmer action because fines are just not working! He said: "Fining companies worth billions doesn't solve anything. Giving a chief executive prison time may be the only way to make the industry change its ways."
Source: "Ladbrokes Owner is Hit with £17m Fine After Betting Giant Failed to Spot Problem Gamblers". Daily Mail. August 18, 2022.
General Gambling News
Back to articles
Your feedback
Please enter your comment.
Your comment is added.
HulioSas 08/18/22, 12:08:20 PM
Entain say these failings were before the new measures were put in place, but what was their excuse last time? If the first time they had a fine they didn't sort...
Entain say these failings were before the new measures were put in place, but what was their excuse last time? If the first time they had a fine they didn't sort the issue, to then get a second fine, it means they're not listening. Harder penalties are needed.
Show more