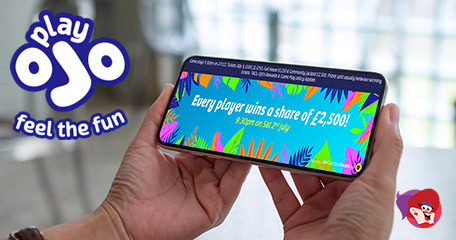 Everyone's A Winner of Real Cash at OJO
Summer is here (well almost!), and to celebrate Play OJO Bingo are turning up the heat on a series of no wagering (ever!) promotions. It's not just the new players that are able to claim offers with no strings attached, no maximum win limits and no withdrawal restrictions, it's the registered players too! From cashback on every wager and bingo ticket purchase to a free spin of the twister machine very Sunday, it's all real cash and 100% fun at Play OJO Bingo. Always.
Get that factor 50 ready because OJO are kicking off summer with a hot new bingo extravaganza, and everyone is guaranteed to be a winner. Temperatures are set to soar on Saturday 2nd of July with £5K up for grabs for just 30p a ticket. Match one line on your ticket(s) before anyone else to win £500, match two-lines for £750 or all 15 numbers to grab yourself £1,250! Everyone else taking part will share a runners up pot valued at £2,500.
You can secure your tickets to the biggest bingo games via pre-buy. Head to the £5K summer share out room, press that pre-buy button to select your tickets. Minimum purchase is 1, max is 100. Why buy in advance? It's a handy feature if you've a memory like a sieve (like me!), because even if you forget about the promotion, you still have a chance to win!
Other Cash-Packed Promotions
Up next at Play OJO Bingo is not one, but several days of bingo celebrations in the National Bingo Day festival. To mark one of the most important days of the year – that being National Bingo Day, a series of great value ticket deals and boosted prizes will be available for one week only and it promises to be even bigger and better than last year.
Throughout the calendar of bingo games scheduled for June 20th to the 27th, OJO will be giving away additional £10K in prizes and it'll cost you know more than 1p (a ticket) to take part! Penny bingo games will run twice an hour every single day with set prizes to be won in each game. These games will run between 4:30pm and 10:30pm daily.
Greater value (if that's even possible!), is promised on National Bingo Day itself with four added bingo games from 4pm to midnight. All this is on top of the current bingo promotions including the one where you can play for a penny…
…to win more than a pound in the "in for a penny" bingo room. The disco room is a throwback to the 80's with 80-ball bingo with 1p tickets between 10am and 2pm. Don't forget, if you're a recent sign-up you get to access 5 whole days of no deposit bingo to learn the ropes too! Oh, and when you refer your friends, you get up to 1,000 free bingo tickets with no wagering, no max win and no withdrawal restrictions!
Wait! There's More
Wall-to-wall cash, we cannot emphasises that enough. Play OJO Bingo is one of only a handful of bingo sites to guarantee never having to meet turn over requirements. Plus, those bonus spins offers are not the usual points converted to cash/bonus offers either – because whether you win £1 or £100K, you get to keep every single penny of it! Now I've cleared that one up let us take a look at what other hot promotions are waiting for you over at Play OJO HQ.
Putting A Spin on Bingo: Every day between 6pm and 10pm, you can play 90-ball bingo to win bonus spins instead of cash! It's regular bingo with three prizes of spins in every game. Tickets will cost no more than 10p each and should you win, you can play slots for free! This week's chosen release is the Book of Fallen with scatters, wilds, bonus spins and a special expanding wild during the free games feature.
Ton Up Bingo: Every player gets 20 tickets – no more, no less and there are 10 chances to win £100 twice a week. There are five prizes in every game.
Free Bingo Baby!: There's only one place to play no risk bingo and that is in the Zero Room! Every single game is guaranteed to be free meaning you can kick back, relax, and withdraw whatever you win, because Play OJO Bingo have no minimum withdrawals! Every who joins in with the freebie fun gets 6 tickets, so nobody has an advantage over you. It's even stevens bingo at its finest.
In for the Sesh: Whatever you're doing this Sunday, why not try session bingo? You get the same great bingo games, same great prizes only at a reduced cost! A session involves ten bingo games with a one-off flat fee of £10 (usual price £20). Tickets will be automatically credited to your account with both 90-ball and 75-ball bingo games scheduled to take place between 1pm and 2pm, then again between 8pm and 9pm. Once ticket sales have closed, the games will get underway with only those players who have purchased tickets. This means players can't join mid-way through games.
Bouncing Back: Get 40 free bingo tickets if you didn't scoop a prize last week in the losers win promotion. Just stake £10 on bingo and if you don't win a single penny, OJO will credit your account with 40 free tickets the following week. No opting in required. Look out for an email from the promotions crew to claim your freebies.
Drop That Jackpot: Three jackpots and £7K in cash can be found in the drop pots room and those jackpots will be won! The mini, midi and maxi pot are won in addition to the full house prizes, if you can call a full house within the stated ball count. The number required to win each pot will increase as the games/days go on to guarantee a winner. Will it be you? Tickets cost between £0.02 and £0.20.
Promotions & Bonuses
Back to articles
Your feedback
Please enter your comment.
Your comment is added.
Member's Feedback (1)
bridgetjones
06/08/22, 01:06:59 PM
It's one of the best places to play. The only downside is you can buy so many tickets in the rooms that unless you do max out, you have to be extremely lucky to...
It's one of the best places to play. The only downside is you can buy so many tickets in the rooms that unless you do max out, you have to be extremely lucky to get a win as most max out every game. Chat hosts are fun and you can change your avatar.
Show more