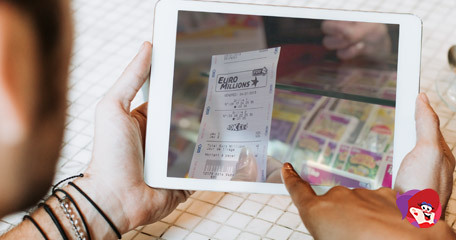 If you play the EuroMillions and live in Bolton, Northumberland or the City of Edinburgh, you could be 1 of 2 millionaires yet to claim their prize!
What's Happened?
The National Lottery has revealed they are on the hunt for two lucky UK millionaires who may not know they have won a life-changing sum of money, plus a third winner who has a lottery ticket valued at more than £80K, after three tickets go unclaimed from the EuroMillions November 3rd draw.
Hard-working lottery detectives have sifted through all the tickets and have managed to narrow down the locations of the three winning lottery tickets, two of which have winning millionaire numbers valued at £1million each while the third is worth a mega £84,616.60 for matching the five main numbers and one Lucky Star. Imagine all that money just in time for Christmas!
Those all-important millionaire maker codes are as follows:
Bolton - TDWQ 89608
Northumberland - TDWJ 92983
Players have until May 1st, 2024, to come forward with their tickets.
Read All About It!
Andy Carter, Senior Winners' Advisor at The National Lottery said, "It's amazing to be able to create 10 guaranteed UK millionaires in one single EuroMillions draw on top of winners of other big prizes, but the call now goes out to every EuroMillions player to check their tickets.‌
If you bought a EuroMillions ticket in Bolton, Northumberland or indeed the City of Edinburgh for the special draw on November 3, it's time to look everywhere – in the pockets of clothes you might have been wearing at the time, bags, in the car, wallets and purses and in that sideboard or drawer where we all tend to put bits and pieces – and check your tickets."
‌Andy added: "Do you live or work in this area, do you have family and friends there who you were visiting or were you just passing through? We're desperate to find these mystery ticket-holders and pay out their life-changing prizes – imagine the possibilities for them! We have the champagne on ice and our fingers crossed that all these lucky winners come forward to claim their wins."
Top Tips!
Playing lottery via the mobile app or online is the only way of not losing your ticket or your winnings. When you play online/mobile, your ticket will automatically be saved to your account and if you win, you'll get your winnings credited instantly. You'll also receive an email alert to check your account. Substantial wins will be informed via telephone.
As it's Safer Gambling Week it's a good time to think about how much you play. It's important that you always play within your means and there are a range of tools out there to help you gamble responsibly, including systems designed to keep a track of your play. Limit your time and spending, set yourself reminders and always take a break.
Source:
"Urgent Hunt As Two National Lottery Prizes Unclaimed Across UK – Check Your Ticket Now". Mirror. November 17, 2023.
Bingo Society News
Back to articles
Your feedback
Please enter your comment.
Your comment is added.
bridgetjones
11/19/23, 05:11:31 PM
Paper tickets are a nightmare. I used to always lose them that's why I play online now, but I can see why some people don't like to because a lucky dip is £2 or £2.50p but online you need to deposit at least £10.