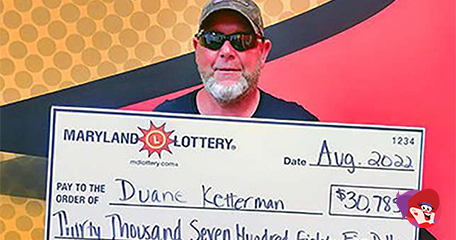 30 Times In One Day! You Are Kidding, Right?
For a few lucky people, winning a jackpot is a once-in-a-lifetime event, but there are some people out there who have won the jackpot more than just the once!
Statistics have proven that we are 45 times more likely to be struck by lightning (1 in 1 million) or 64 times more likely to be crushed by a meteor (1 in 700,000) than we are of winning the lottery, so imagine what those odds would be when it comes to hitting the jackpot twice! But it's not impossible!
Turning Impossible Into I'm Possible:
1- Evelyn Adams, a convenience store worker from New Jersey, won a staggering $5.4 million (£4.5m) when she hit the jackpot in October 1985 and then again just four months later in February 1986! Her odds of winning the first jackpot at the time were 1 in 3.2 million while the odds of her scooping her second top prize was a jaw-dropping 1 in 5.2 million! Due to her lucky streak, Evelyn thought she was invincible and ended up with a gambling problem, later telling media outlets "I won the American dream but I lost it too." Always gamble responsibly!
2 - Bill Morgan, who was a 37-year-old Australian truck driver won the lottery twice after surviving a near-fatal heart-attack. After spending 15 days in a coma, he decided to buy a scratchcard and he won a brand-new car. Many years later he was invited back to the same store to re-enact his win where he then won $250,000 ($180k/£134K) Australian Dollars!
3 - Duane Ketterman from Delaware always played the lottery but never won. Until July 2022 that was! The powerline technician had his first major win of $18,000 (£15k) in Maryland Lottery's Racetrax game before striking it lucky again just a month later, this time winning an additional $30,785 (£26K).
4 - Robert Hamilton from Indianapolis won't forget 2014 in a hurry after scooping the lottery jackpot twice in just 3 months! A win of $1 million (£774K) from a lottery ticket purchased in a convenience store in Indiana, before winning an additional $1 million from a different local store.
5 - Mary Riedel also had a memorable 2014 with her two Ohio Lottery wins. The 40th Anniversary Millions draw resulted in her winning $50K (£38K) and instead of treating herself with the money, she gave the whole lot to her daughter to help buy her first home! Just 4 months later at a gas station in Brunswick, Mary purchased another lottery ticket only this time the generous woman won $100K (£76K).
6 - Ryaan Othman from Brampton, Ontario won CA$1 million ($735k/£612K) in January 2023, but in December 2022, Ryaan won CA$180,000 ($132k/£110K) on his favourite game, Lotto Max. Speaking to media he said: "I was speechless for at least three minutes. I knew the odds of this happening were slim but for it to happen twice is out of this world."
7 - Antoine Beaini also won the Ontario Lottery twice, including CA$1 million ($733k/£612K) just 13 months after winning the exact same sum in august of 2021!
8 - Kenneth J Stokes from Massachusetts was gifted a season pass to the Massachusetts State Lottery Lucky for Life draw with their lucky numbers, so he decided to buy one of his own with those same lucky numbers. Then, due to his actions he won the same jackpot twice - $546,000 (£412K)!
9 – In 2016, Kevin Miller from Massachusetts found he had won a $1 million (£835K) top prize with his lottery ticket. Six years later he won $25,000 (£21K) a year for life in the Lucky For Life lottery game.
10 – Racy Pel in 2013 liked the fact the CALottery donated money to California's state schools, so he purchased $20 worth of Super Lotto Plus tickets. One ticket won him $50 million (£37.6m), while his second ticket won him $32,304 (£24K).
11 - Steven Antal from Oshawa, Ontario in Canada hit the headlines after he won the lottery jackpot for the third time! The odds of winning the Big Spin jackpot are one in 1,034,075, but he won it three times – CA$250,000 ($183k/£153K) in 2018, CA$100,000 ($73k/£61K) in 2019 and CA$550,000 ($403k/£337K) in 2023!
12 - Melvyn Wilson lucky run started in 2014 when scooping $25,000 (£19K) on a scratchcard. In 2015 he won $1 million (£752K) and $500,000 (£376K) on the Virginia Lottery. Eight years later in 2013 he won $500,000 (£378K) on another Virginia Lottery scratchcard.
13 - Joan R. Ginther, hailed "the luckiest woman in the world" hasn't only won the PowerBall once, not even twice, but a total of four times, defying odds of 1 in 18 septillion - a septillion has 24 zeros in it if you didn't know! Wins include $5.4 million ($4m) in 1993, $2 million (£1m) in 2003, $3 million (£2m) in 2005 and then $10 million (£8m) in 2008.
14 - Juan Hernandez of Nassau County, New York won $10 million (£7.5m) on the New York Lottery twice, netting him more than $13 million (£10m) after taxes.
15 - Wendy Baron from the UK won the UK's People's Postcode Lottery twice… £30,000 ($36K) and a holiday worth £5,000 ($6K) in February this year and over £11,000 ($13K) at a previous address in 2020!
16 - Mark Maltz won the Michigan lottery three times in one day in February 2018, his first win was just $15 (£12) on a scratchcard. Redeeming his prize he purchased a second scratchcard, this time winning $10 (£8). His final purchase netted him a fortune of $325,184 (£252K).
17 - Virginia-based Calvin and Zatera Spencer, dubbed "the luckiest couple in the world" after winning two $1 million (£774K) prizes and a further $50,000 (£39K) in 2014.
18 - Massachusetts man Raymond Roberts has won the lottery 6 times to date, with a total prize win of $1.95 million (£1.6m)!
19 - Richard Lustig was somewhat of a celeb before his tragic passing, after winning seven lottery jackpots between 1993 and 2010! Yes seven! Among his lottery jackpot wins was a holiday to Memphis and cash, taking his total prize pool to an impressive $1 million (£774K).
20 - Stefan Mandel won $27 million (£21m) in the Virginia jackpot in 1992, but he wasn't on his own, he won it on behalf of an Australian syndicate. He claims to have devised a winning strategy, purchasing every single combination of numbers possible and it worked! The win in 1992 was his 14th jackpot win. NPR's Planet Money producer Alex Goldmark said: "He doesn't just go out and buy random tickets. He goes to the library and he starts reading math paper after math paper after math paper, and he comes up with a formula for buying blocks of tickets that he thinks should guarantee him a prize."
21 - Armand Paganelli, aka the local legend, from the Bronx in New York, won 16 lottery jackpots in just two years! A total fortune of around $625,000 (£484K) was won, but it did raise a few eyebrows, what with him and his brothers running the drugstore in which he won at! Saying that, it is legal for retailers to purchase tickets.
22 - Deborah Brown from Richmond, Virginia, won the lottery a massive 30 times in one day! THIRTY-TIMES! She bought 30 Pick 4 tickets on the Virginia Lottery, choosing the same combination of numbers (1-0-3-1) for each. Her numbers came up, meaning she had 30 winning lottery tickets, netting her a total fortune of $150,000 (£112K).
Source:
"These People Won The Lottery Jackpot Then They Won It Again", msn.com, April 10, 2023.
General Gambling News
Back to articles
Your feedback
Please enter your comment.
Your comment is added.