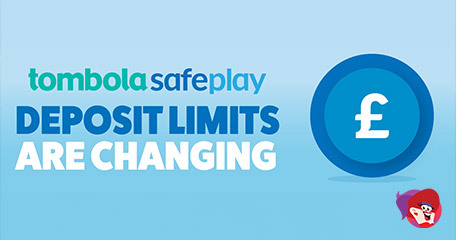 Nabbing the accolade for "responsible gambling operator" isn't just another in a long line of fancy trophies for tombola to throw into the cabinet, it's an award to highlight just how seriously the bingo site takes responsible gambling and because of this there's a big change coming.
Up until now tombola players have been able to credit their account with as much as £250 every week and once that threshold is met, no more deposits can take effect until the new week begins…
…but in an attempt to get more players to make withdrawals, deposit limits will soon be known as spend limits, and the more you cash out, the better your spend limits will be! The upcoming 'fresh approach to deposit limits' has been designed to give you even more control of your spending, providing you abide by the rules.
The new tombola spend limits are simple to follow – your weekly deposit limit is £250, once you reach that threshold you cannot play until the next week. However, if you win and decide to withdraw £150 via Visa Debit (for example), this then pushes your remaining weekly spend limit back to £150.
The changes come into effect automatically in October. Remember:
A sitewide net deposit limit of £250 per week and/or £1250 per month still applies to all players.
You can set a maximum spend limit of £250 per day, week or £1250 per month.
Spend limits can still be locked in place for up to 12 months to make sure you stay within your budget.
Any existing or pending deposit limits exceeding £250 per day, week or £1250 per month will be adjusted in line with the new maximum spend limits.
You What?
There's been some mixed feelings with the changes over on the community Facebook page with arguments for and against the changes.
Sandra O'Neil said: "I don't agree with it either, the way I see it we are all adults and if we chose to play our winnings and not withdraw then we should be able to, after all its our money and that shouldn't make any difference to our spending limit that most sensible people have."
Pauline Mcphee echoed those comments by Sandra: "If it's not broke don't fix it. I've been with tombola since the start. Love the responsibility gamble tools they have. We just want straight forward please."
Stephen Curry added: "This is a much more sensible idea, it will encourage people to bank also!"
Sandra Stainthorpe agreed with Stephen saying: "I think it's good as sometimes when I'm on my limit I don't withdraw because I think if I lose this I won't be able to play till next week."
Many have been calling for a new lower deposit limit of £5, however, those comments have gone unanswered.
What do you make of the new safer gambling changes? Let us know in the comments below.
General Bingo News
Back to articles
Your feedback
Please enter your comment.
Your comment is added.
bridgetjones
09/28/23, 07:09:13 AM
I think it's a good way of getting people to cash out. I'll withdraw anything over my original deposit even if it's only a tenner but most don't and continue to play and then go on to lose, so well done tombola.