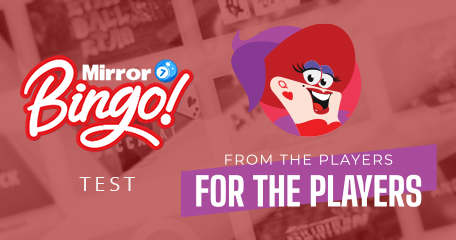 Mirror Bingo comes to you from the folks who deliver daily news, and in 2020, they launched on the Jumpman Gaming platform with a brand-new look, huge range of promotions and no deposit offers. Many are under the impression they are one of the latest online bingo sites to launch due to their appearance, but Mirror Bingo has been around since 2008! They claim to have one goal: "To bring you the best online gaming experience from a brand you know," but what they claim to offer and what they actually offer are two different things, as we discovered during this test.
We've been scrutinising bingo brands for months, delving into their terms and conditions, playing their games, contacting support and making withdrawals, all to bring you the very latest information – something no one else does! From Coral Bingo to Kitty Bingo, mFortune to Bingo Cams, we have uncovered some pretty interesting things!
Our tester discovered two major inconsistencies with Mirror Bingo, and you won't find anything relating to these within the terms and conditions! Did our reviewer experience the "best online gaming experience" as promised, or quite the opposite? Find out here!
Tester of the day: Dr00pydrawers
Registration: Tuesday 21st September 2021.
KYC Added and Verified: Uploaded September 22nd & 23rd - accepted October 3rd. Like many Facebook relationship statuses – "it's complicated"
Deposit date, amount and payment method: Tuesday September 21st, £150 via PayPal.
Withdrawal request date: Sunday 3rd October 2021, £75.47p via PayPal
Withdrawal received date: Sunday 3rd October 2021, £72.97p via PayPal (£2.50p fee)
The Registration Process
Before being able to play, our tester of the day had to register. After supplying all her details, she was met the following message, and this is despite not being a registered player: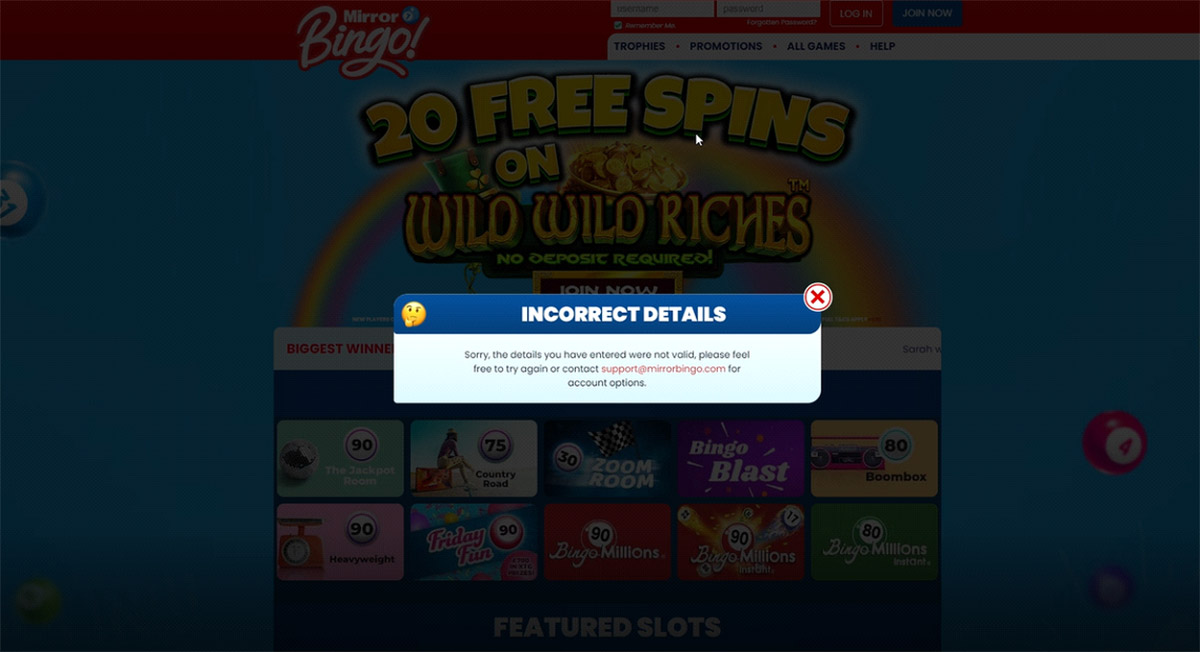 Knowing she had never played before; she used another email and was welcomed on board with the "20 free games on Wild Wild Riches" no deposit welcome offer. Declining the offer and its hefty wagering requirements (65x), she headed to the cashier to make a deposit.
Initial Deposit
On September 21st, Dr00pydrawers wished to make a deposit of £150 via PayPal, only when visiting the cashier, she realised she could only make deposits of £10, £20, £50, £100 and £200. There were no options for £150 nor a box to type in an amount different to what was shown. To make a deposit of £150, a deposit of £100 was made followed by £50.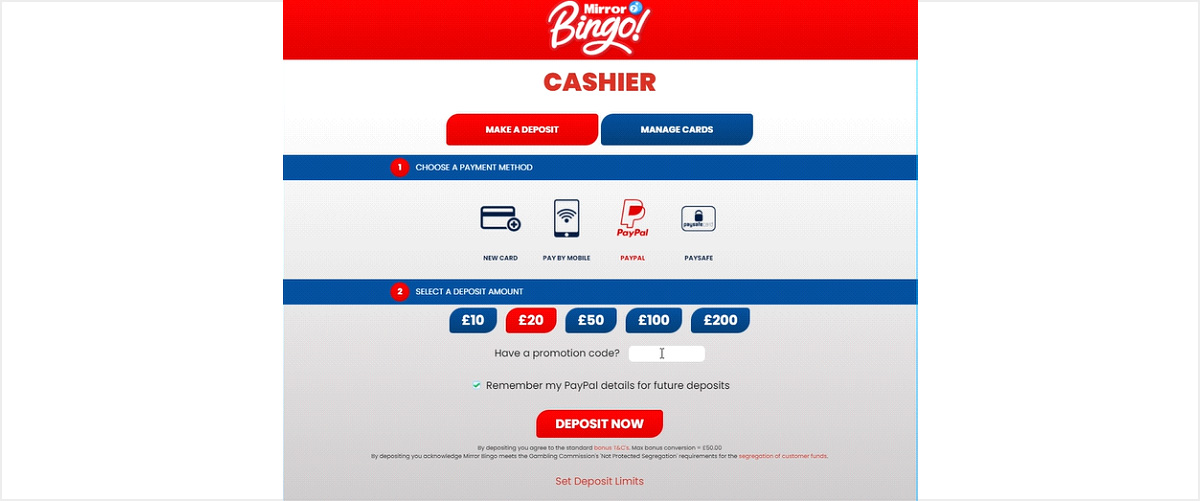 Gameplay
Heading to the bingo lobby, the first thing she noticed was the start times of the bingo games. Of the nine bingo rooms offering 24/7 games, none were showing as running regularly. Seven were showing start times in excess of 1-hour, one with next game starting over 3-hours later and another over 9-hours later. The 'Super Heavy Weight' and 'Community Pot' rooms were one-off monthly specials, so she understood there was no chance of playing in those rooms on this day.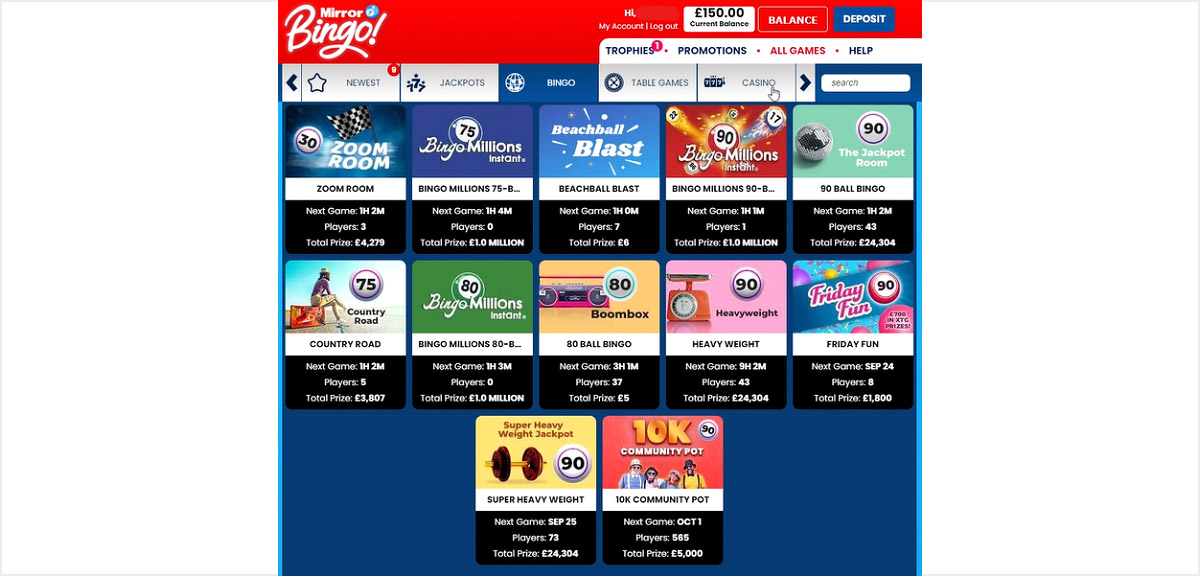 Knowing 'Bingo Millions' is an instant win style room, she headed there first. Despite being the only player, she wasn't too disappointed as these games are unique and see players compete against the machine to win prizes from a multi-tiered system. After realising she was having no luck in these rooms, she went back to the bingo lobby and entered the Beachball Blast room. Start times for the next game were an hour away, but after choosing a chat name, she realised the lobby was wrong, bingo games were running every 5-minutes or so (or sooner in speed bingo games)!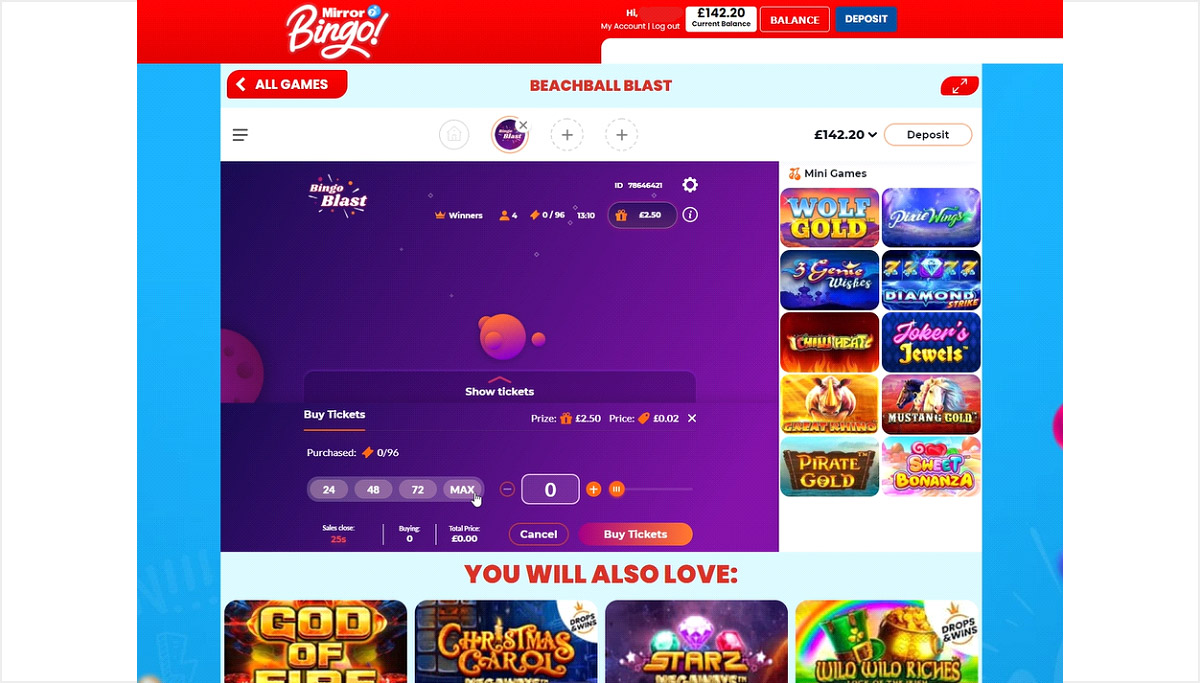 Like most bingo players, our reviewer enjoys a few spins on the mini games while her bingo tickets automatically play out, only she was left less than impressed with the number of games offered in the rooms at Mirror Bingo. Of the handful of games available, all were powered by Pragmatic Play, the same company behind the bingo software. If you wish to play anything other than those titles shown, you have to do so separately away from the bingo.
Requesting a Withdrawal
At the point of registration, a welcome email arrived in our reviewer's inbox, only it had very important details that went unread for a few days, details on what she needed to do in order to withdraw. After playing a variety of bingo games and some slots, Dr00pydrawers decided it was time to cash out her remaining balance of £75.47p, only the cashier had other ideas.
A pop-up appeared on screen alerting her to her account needing to be verified before a withdrawal could be made. The estimated time for this was showing as 48-hours.
On September 22nd, Dr00pydrawers started to suspect something wasn't quite right so headed off back over to Mirror Bingo to read the terms and conditions – this is where the confusion set it! The terms clearly state, "Identification will be required in order to process your first withdrawal with us," but in the cashier it says "You may be required to submit ID documents to process your first withdrawal with us".
Terms state: identification will be required

Cashier message: identification may be required

So, which was it? KYC documents were indeed required before a withdrawal could be made so on September 22nd and 23rd, this info was uploaded to our reviewers account by using the dedicated 'upload documents form'. A utility bill dated within the last 3-months, a screenshot of her PayPal details along with photographic proof of her cards registered to PayPal were uploaded, but there was one other thing she needed to do – everyone new player needs to do – add a selfie! No kidding!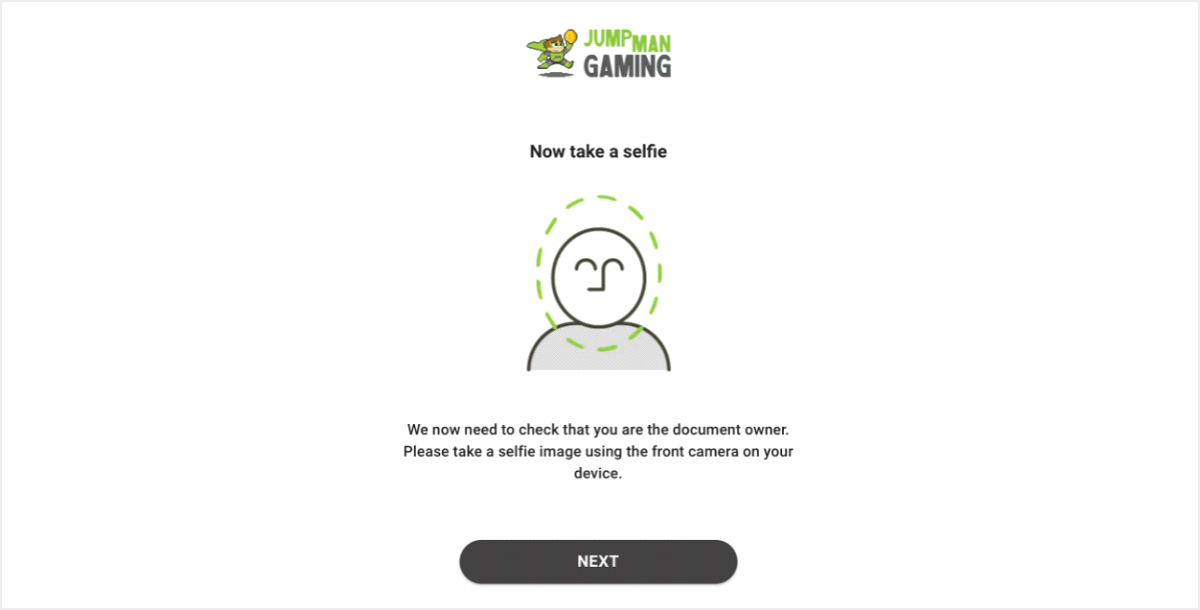 To verify identity, not only do you need to have access to a smartphone/tablet with a good quality camera, but you need a very steady hand! Our tester clicked the link in the cashier to add proof of ID and was met with a QR code. Opening up her phone's camera, she hovered the lens over the code and was required to complete this section of the KYC process via the browser on her mobile device.
Tips are provided on how to take the best shot, anything less than perfect and you have to re-take, as our tester discovered multiple times. You're asked to place your ID (passport/driver's license) on a dark solid background to "ensure even and consistent lighting to avoid glare, hotspots and shadows across the ID surface." A warning also appears "The image must be in complete focus so try to keep a steady hand to avoid any image blur."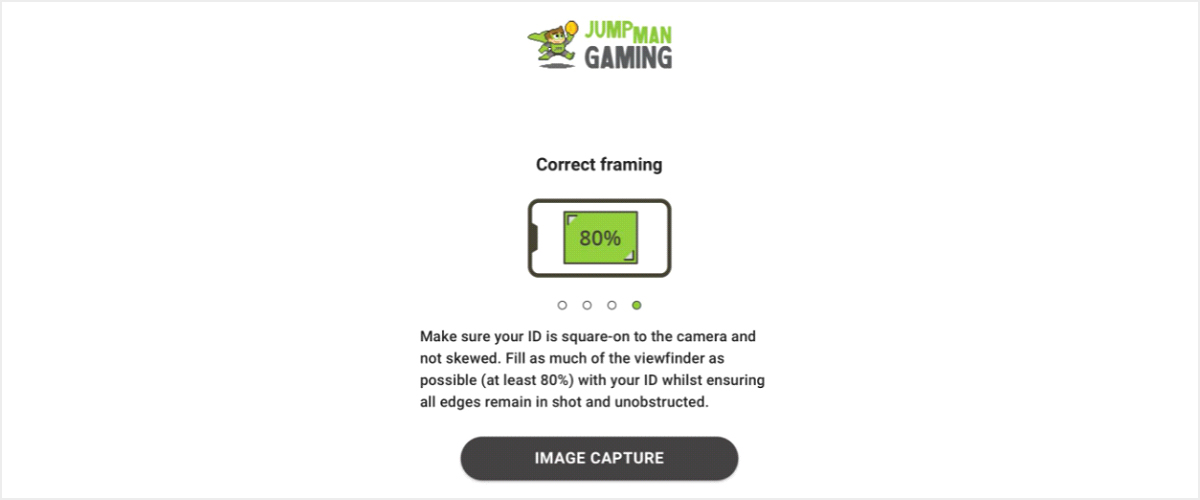 You really have to be careful when capturing your image as there is literally no room for error! Our tester of the day had to retake images of her driver's license 7 times before it was accepted. Front and back! When this was done, the final step was the selfie. Using the phone's front-facing camera, she took a selfie and submitted it.
What next? More waiting that's what! On the 24th, Dr00pydrawers logged in to check the status of her documents, and each one of those pieces of evidence were verified. Heading to the cashier to make a withdrawal 3-days after registering, a pop-up appeared telling her she needed to supply more evidence! Evidence that had already been accepted and verified!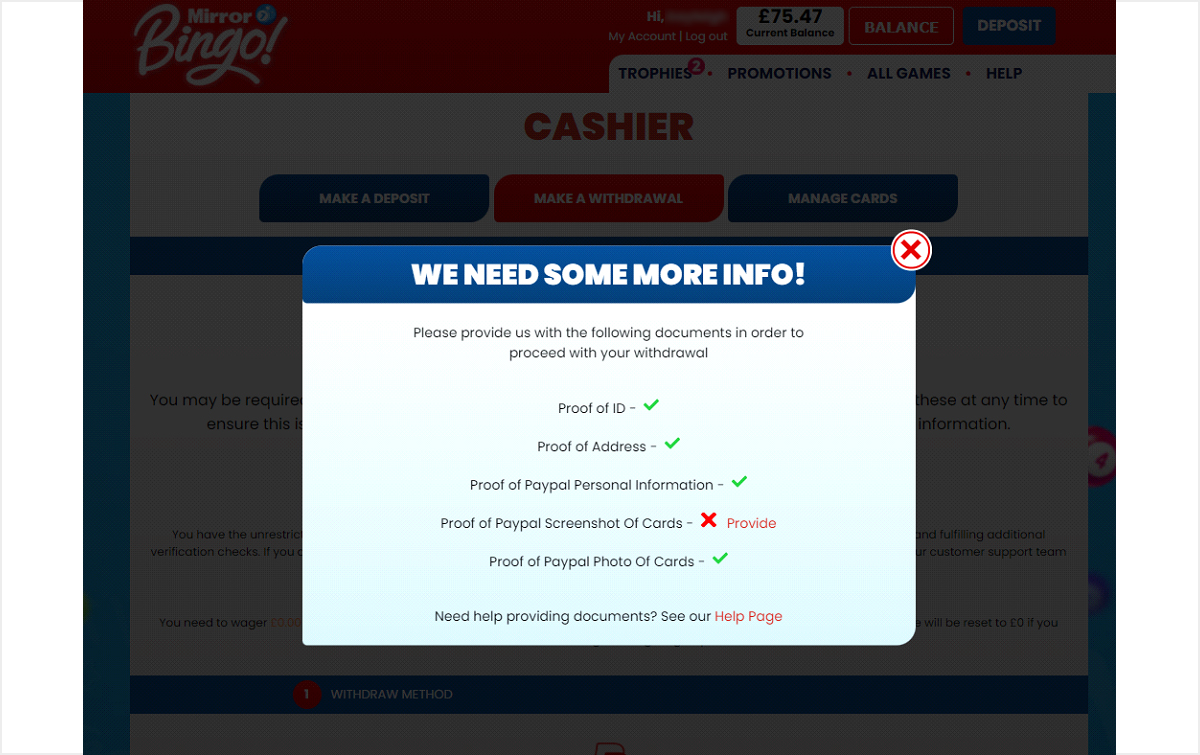 According to the pop-up, "Proof of PayPal Screenshot of Cards" was required, but she had already provided this:

Another email was sent to customer support on the 24th asking why duplicate details were required and instead of the reply coming back as an error their end, when she did get a reply three-whole days later, they wanted two more pieces of evidence, not the one required within her account! Talk about confusing!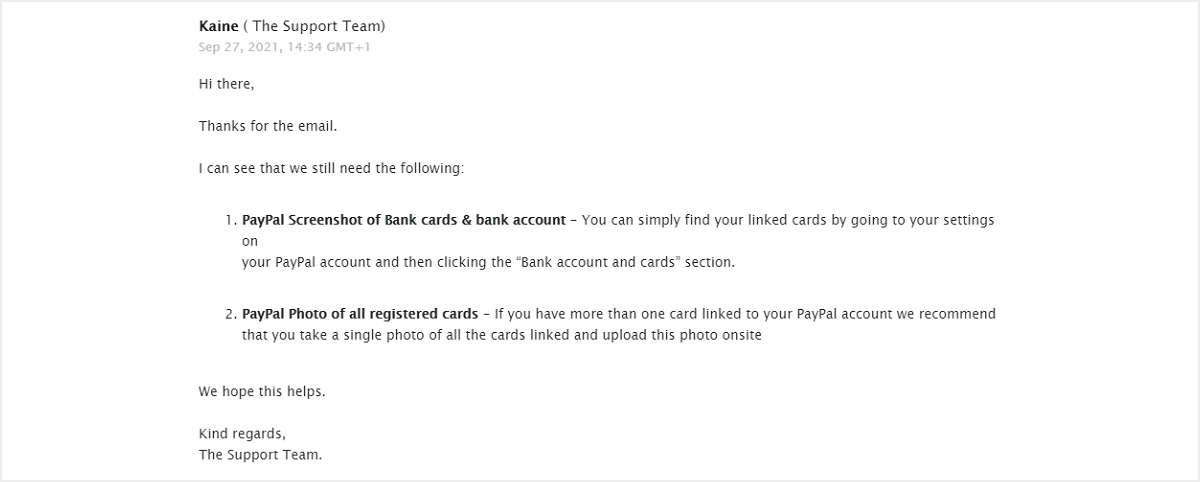 This information had already been submitted and accepted, but the tester wanted to get this over and done with, so she added everything to an email and sent it off that same day September 27th. Logging in later that day she noticed the list of items that had been verified had changed, instead of there being one item outstanding, there were two – even though it had already been processed and accepted!
Before the duplicate information email was sent: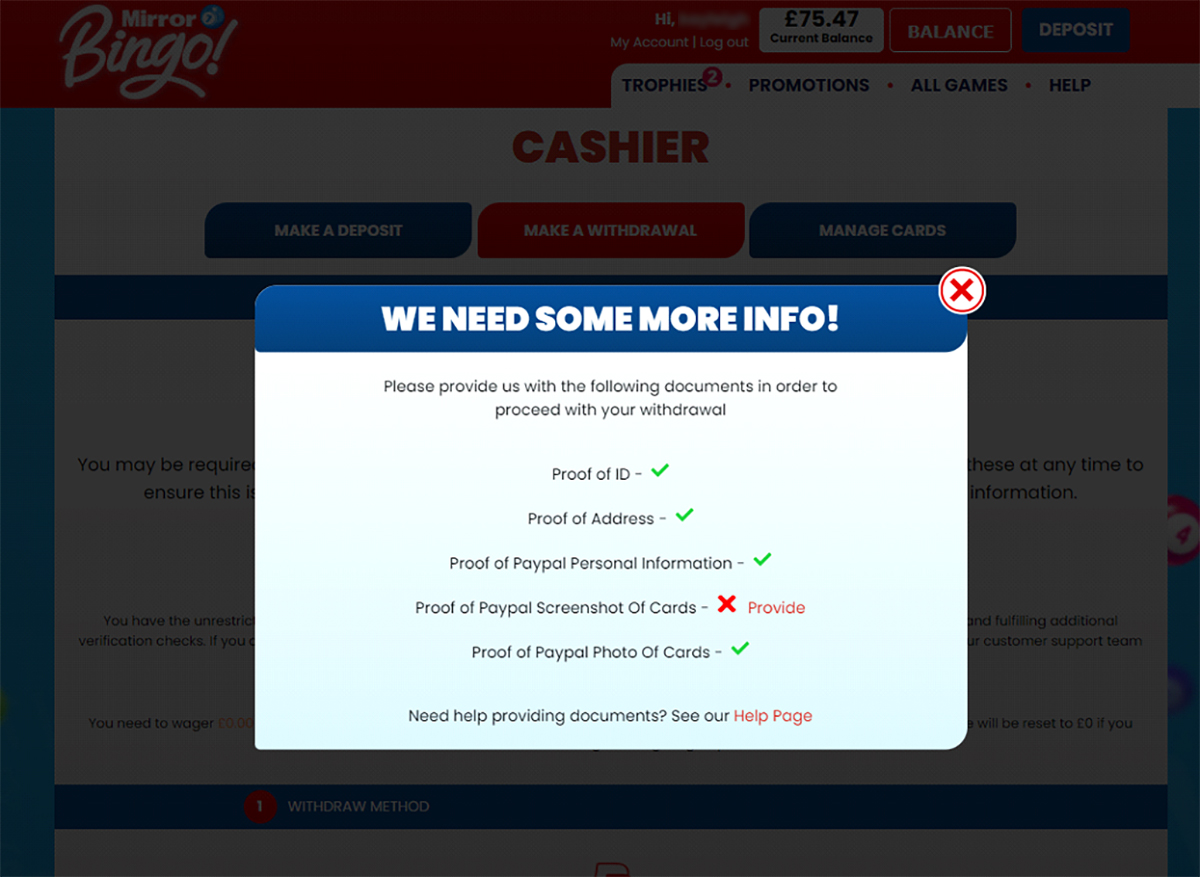 After receiving a reply regarding duplicate information:

Logging in on the Tuesday 28th, the status of the documents was changed once again! Our tester was at risk of sustaining a whiplash injury with all this toing and froing! "Proof of PayPal Photo of Cards" went from verified with a green tick to unverified with a red cross to an amber warning symbol! Talk about frustrating and confusing!

Wednesday 29th, Dr00pydrawers receives another email stating the only item that wasn't accepted was the "Proof of PayPal Photo of Cards" and in that email, she was asked to upload it again with tips on how to do it properly. The image supplied was originally accepted, declined and now declined again! How can the same image that was accepted later be rejected twice? Frustration started to kick in at this point, what with the Mirror Bingo account still suggesting there were two pieces of evidence relating to her "card" outstanding!

At this point she was going round and round in circles! What was more frustrating for our tester was the fact she could continue to deposit and play with her remaining funds, despite the operator believing the card may not be hers! This same day, she submitted her card for the fourth time. While waiting to be verified, she was receiving messages via text and email actively encouraging her to play.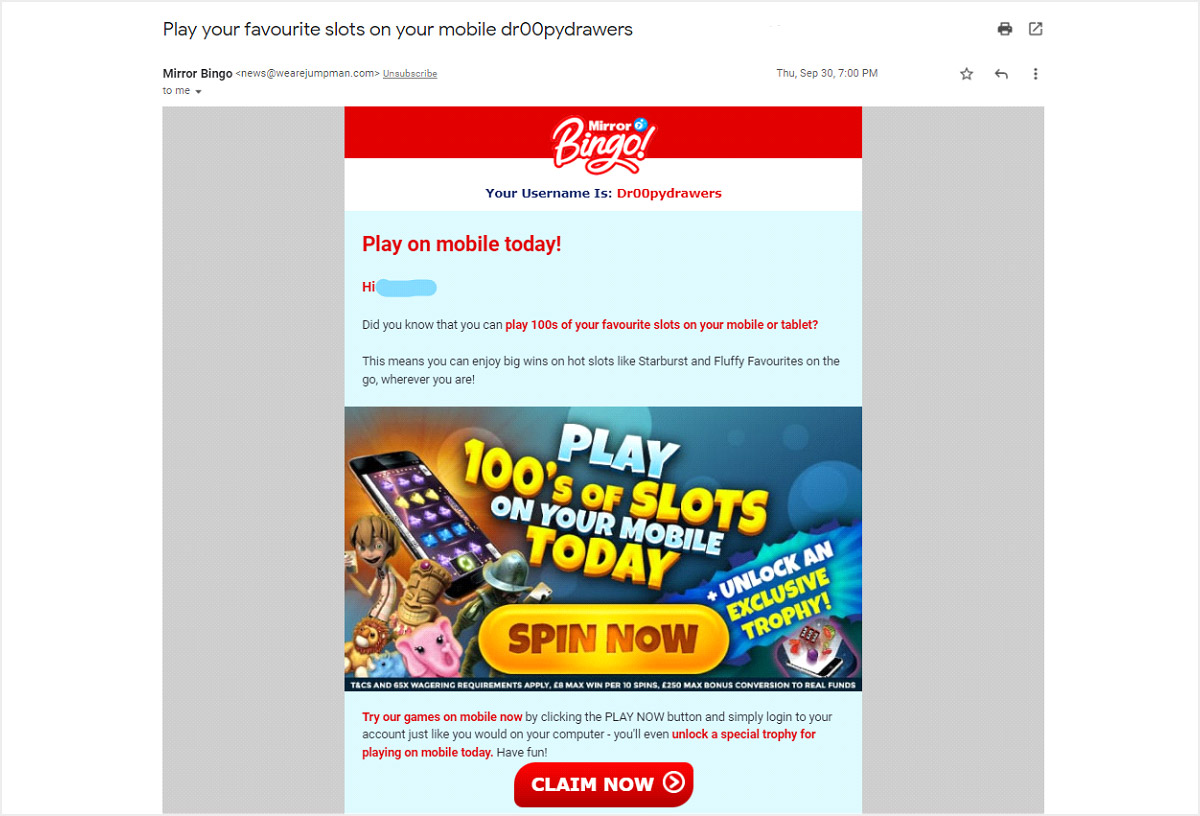 On Sunday 3rd October, 12 days after registering, 11 days of uploading documents numerous times, our reviewer decided to log into her Mirror Bingo account to see if there had been any changes, and to her surprise there had!

She received no emails to say she had been verified, she had to find this out for herself! From start to finish, the documents she provided were identical – she was submitting the same evidence over an over and in the end, 11 days of going back and forth, Mirror Bingo decided to accept what was being sent, because it was exactly what was being asked for in the first place!
Sunday October 3rd, a withdrawal for £75.47p was (finally!) made.

Within a few hours, her withdrawal was complete and her funds, minus a £2.50p charge, were in her PayPal account.

Dr00pydrawers email sent on September 27th regarding the frustrating KYC process remains unanswered to this day.
How Does Mirror Bingo Stack Up?
First thing – Mirror Bingo made our reviewer jump through hoops to get her account verified, and during this time she was able to carry on playing with real money but not withdraw. Dr00pydrawers has been playing bingo both online and offline for almost two decades and has never come across an operator this confusing before!
Now, another vital piece of info she found was that the free-to-play cash drop daily game (offered to depositing players), will not be available to new depositing players, something which isn't made clear in any of the terms and conditions at Mirror Bingo. The day after making a valid deposit, Dr00pydrawers received an email reminding her to play her free game for a 4 in 5 chance of winning real cash.

Only when pressing the link supplied in the email, no game appeared. Logging in via a different browser, she discovered the link to the game via the promotions tab took her to the games lobby instead!

Realising there could be an issue, she pinged an email to customer support on September 22nd, the day she received the email, only the reply she had back had nothing to do with her query! A full 24-hours after sending the email, customer support came back with reference to her uploading identification documents - no explanation as to why the Cash Drop game was not available to her. The terms state "You can play Cash Drop every day by logging in and heading to the My Account section before 23:59, as long as you have made a deposit on the previous day," meaning her real money winning opportunity had expired at midnight on the 22nd.

In conclusion there is no way new depositing players can play the Cash Drop game the day after their first deposit! One other thing, Mirror Bingo are keen to share your details with 'Reach Plc', with regular pop-ups appearing asking for your consent.

Overall, Mirror Bingo's customer support is slow and sometimes goes unanswered, processing of verification documents is misleading and also slow. Once the request was made, the PayPal withdrawal was received within a few hours.
From the Players for the Players
Back to articles
Your feedback
Please enter your comment.
Your comment is added.
Feelin froggy
10/12/21, 06:10:54 PM
Disappointing for such a long-standing brand.
Bubles12
10/11/21, 09:10:41 AM
wow! problems every step of the way, from registering to withdrawal. Not the best place to play.