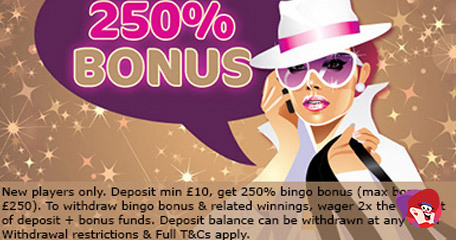 Your Status Can Unlock Bigger Rewards
Do you often find yourself being put off playing bingo online because the welcome page isn't as exciting as it should be? I know I do, which is why I decided to carry out a little investigation. Donning my best sleuth attire and magnifying glass to sift through those terms and conditions, I headed to Posh Bingo and I was totally surprised by the results!
Welcome to Posh Bingo
On first appearance, the welcome page is very dated and cluttered. I know, you should never judge a book by its cover but honestly, it could do with a bit of a makeover. The animated women dressed in classy clothes give a hint of the high life, and the welcome offer draws your attention away from the collection of shoes on display. A wagering requirement of just 2x on the welcome offer is what we call a fair system. The lower the wagering the more chance of cashing out from a bonus!
The registration process is as simple as its ever going to get, the only downside is you need a mobile phone – and it needs to be to hand! Only once you have verified your mobile (code sent via text), will you be welcomed inside. If you get a message saying the code you entered was incorrect, just ignore it because it isn't!
What A Difference!
As soon as registration is complete, you'll be sent to the Posh Bingo lobby where you will be amazed at its appearance (and offerings!). You'll find no more animated images and dated layout, instead, a bright, modern layout with bingo slots and much more! In the games category you'll find must drop jackpot slots, progressive jackpots that continue to roll over until won and games like Slingo. Popular titles in the UK at present include Bonanza with it's cascading reel engine and up to 117,649 ways to win and Big Bass Bonanza.
Bingo is where you will find bingo games of all shapes and sizes and not just classic 90-ball and 75-ball bingo games, but bingo roulette, bingo with playing cards instead of numbers…
…and even a room where the prizes remain hidden until after ticket sales have closed! Popular rooms include the pretty poodle, the spa, high heels, sweet stack up and the size 24 room where the jackpots are plus-sized.
Free bingo games range from a bonus of £1 to £1K in real cash with no wagering! Access to these rooms are granted on play status and when you last made a deposit. Another feature that relies on play status is the shop, a place where Posh Bingo players can go wild in the aisles to pick up all sorts of offers. Bingo ticket deals, bonus spins, real cash and games bonuses can all be claimed with your play coins.
Posh Bingo is as posh as online bingo is ever going to get and the range of prizes are just superb. Even when playing for pennies a ticket or for free! Why not check it out for yourself? There's a 250% bonus waiting to welcome you!
Bingo Promotions & Bonuses
Back to articles
Your feedback
Please enter your comment.
Your comment is added.
Member's Feedback (1)
TinTinn
07/20/22, 12:07:32 PM
I do get put off by the welcome pages. If they were bright and had a design that was more in-keeping with the times then I would join, but old-fashioned designs...
I do get put off by the welcome pages. If they were bright and had a design that was more in-keeping with the times then I would join, but old-fashioned designs and pages mean I try elsewhere.
Show more